Archive for July 10, 2012
I don't have a link to the story, but the following article comes from Greenwire. I'm posting it here as a sort of companion piece to the ESA piece Sharon just posted regarding the House Resources Committee Hearing.
Lawsuits not hurting Endangered Species Act – FWS director
By Laura Petersen, E&E Reporter

The House GOP's campaign against environmental groups that sue the federal government over endangered species management is not the way to improve the Endangered Species Act, according to Fish and Wildlife Service Director Dan Ashe.

"On the scale of the challenges that we face implementing the Endangered Species Act, litigation doesn't even show up on the radar screen," Ashe said in an interview this week marking his one-year anniversary as director.

Invasive species, habitat fragmentation, water scarcity, climate change and availability of reliable scientific information are all much more pressing issues than lawsuits, Ashe said.

In an effort to overhaul the Endangered Species Act, House Natural Resources Chairman Doc Hastings (R-Wash.) has focused particularly on the high number of lawsuits brought against the government under the law's provision that allows citizens to sue if they disagree with a listing decision or a delayed decisionmaking process and have their legal fees paid for if they win.

Hastings has characterized the environmental groups that file suits regularly as "lawsuit-happy organizations that make a living off of suing the federal government" and called litigation costs "one of the greatest weaknesses" of the Endangered Species Act (E&E Daily, June 20).

Ashe dismissed the attacks as a "good sound bite," noting that the amount of money the agency has paid out in legal fees is a small fraction of the $200 million a year it spends to implement the ESA and hardly enough to support entire nonprofit organizations.

"Can I get frustrated at [Center for Biological Diversity] and WildEarth Guardians, or my good friend Jamie Clark at Defenders [of Wildlife] when they decide to sue us? Yeah, I can," Ashe said. "But on balance, I think it's a strength for the Endangered Species Act, and not a weakness."

The provision has been especially beneficial during presidential administrations that "did not have a friendly view" of implementing the law and protecting imperiled plants and animals, he said.

Last year, FWS struck a massive settlement agreement with environmental groups that set a six-year timeline for the agency to make decisions on 251 candidate species and initial findings on hundreds of other species. In exchange, the groups promised to not file more lawsuits.

The settlement has been "quite a success," with both sides being "faithful" to the bargain, Ashe said.

Asked how he would reform the Endangered Species Act, Ashe said "reform is too strong of a word."

However, he said the law can be better. The biggest improvement he would like to make is to increase financial incentives for endangered species conservation.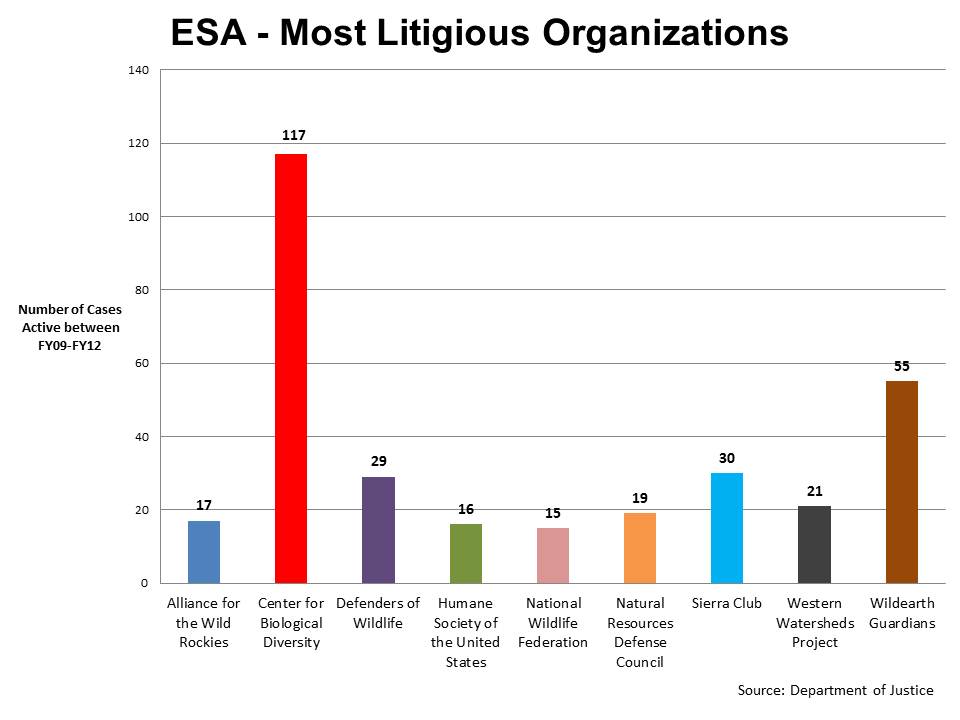 Millions of Taxpayer Dollars Spent on Endangered Species Act Litigation and Attorney Fees
Here's the link.
WASHINGTON, D.C., June 19, 2012 – According to data recently obtained from the Department of Justice (DOJ) in response to document requests, the federal government has defended more than 570 Endangered Species Act (ESA)-related lawsuits costing U.S. taxpayers more than $15 million in attorney fees – in just the past four years. This data provides further evidence that the ESA has become litigation driven, where money and resources are spent addressing endless, frivolous lawsuits instead of species recovery.
Environmental groups are filing the vast majority of litigation, with the Center for Biological Diversity and the WildEarth Guardians leading the charge.
These groups, and their lawyers, are making millions of taxpayer dollars in profit by suing the federal government. According to DOJ, some attorneys are reimbursed up to $500 an hour and two lawyers have each received over $2 million in attorney fees from ESA cases.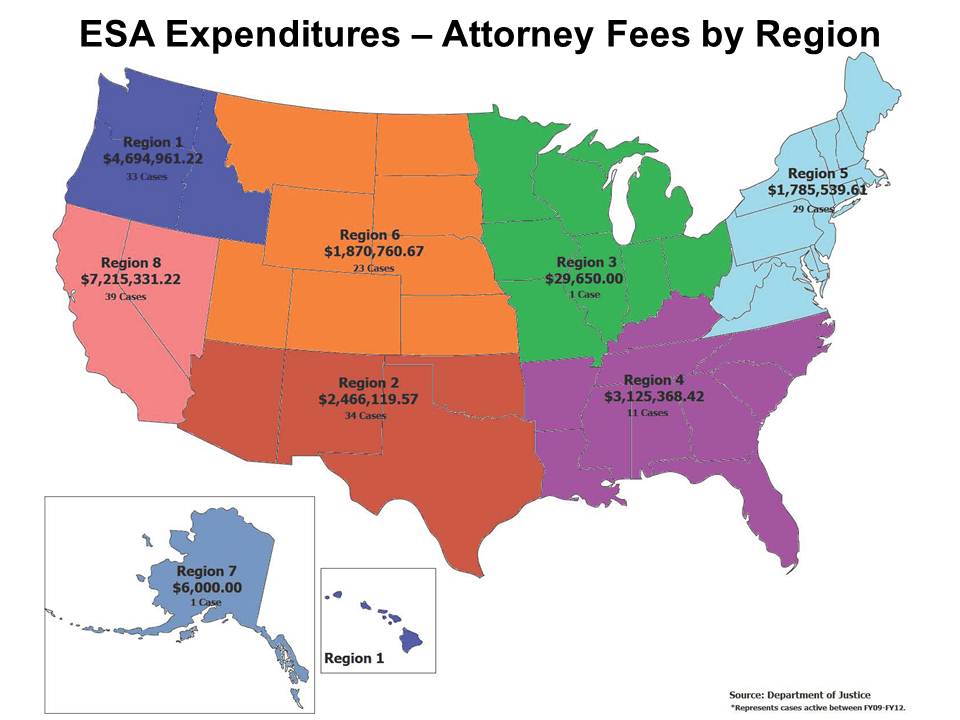 The hearing can be found here:
OVERSIGHT HEARING ON:
"Taxpayer-Funded Litigation: Benefitting Lawyers and Harming Species, Jobs and Schools
This hearing follows a number of transparency request letters (3/19/12) and (5/31/12) sent by Chairman Hastings to help determine the cost and impact of taxpayer-funded attorneys fees and time spent on Endangered Species Act (ESA) litigation. The goal of the ESA is to conserve key domestic species, yet it's increasingly being used by special interest groups to file lawsuits – or file petitions threatening lawsuits – to drive federal agencies to make agenda-driven decisions not based on verifiable data or sound science or priority, but to block economic and job-creating activities. With a one percent recovery rate, and hundreds of more species being forced onto the ESA list, federal taxpayers and existing endangered species deserve better. Transparency and accountability are helping shed light on how ESA is being abused by litigation and the facts distorted by advocacy groups.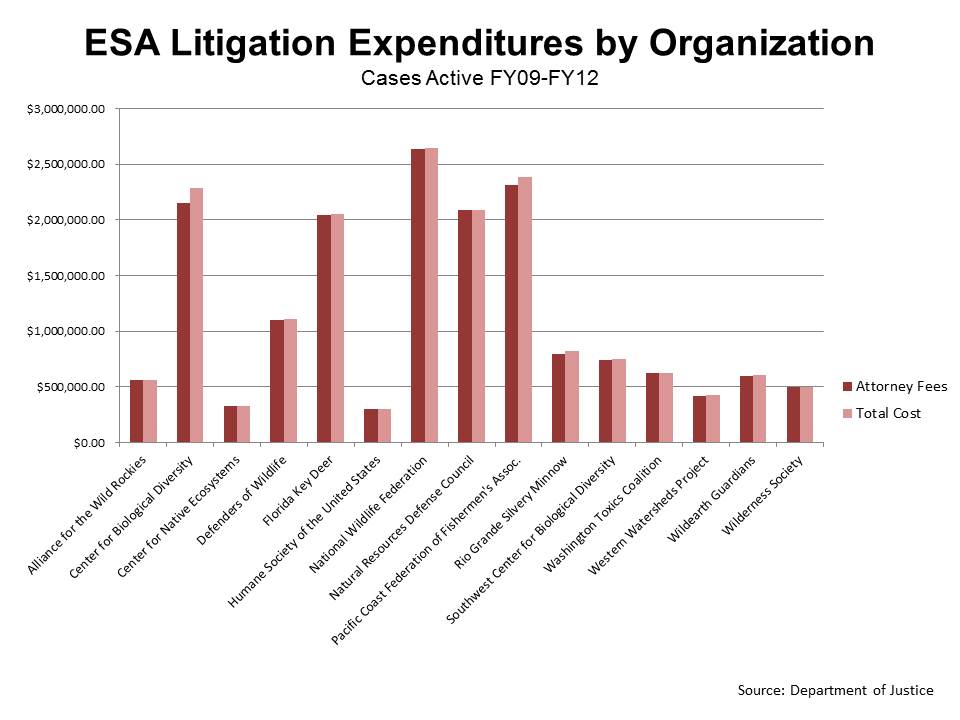 Terry Seyden sent this piece from the Salt Lake Tribune.
Here's an excerpt:
Last month's Lost Lake Fire, blackening thousands of acres near Teasdale, shows the need to step up forest treatments, Chappell believes.

"We just had a fire down here that should've opened a few eyes about logging and thinning."

Utah Environmental Congress Program Director Kevin Mueller said leaving the trees alone won't invite an unnatural fire. The spruce forest naturally burns at long intervals — once every 300 years — so the last century's fire-suppression efforts that get blamed for creating dangerously thick forests haven't had any effect on these areas. They grew thick naturally.

"We strongly believe the Forest Service shouldn't be logging old-growth spruce," he said, "partly because so much of the spruce has been hit by the spruce beetle."
If trees are dead from spruce beetle, are they still good habitat? And if not, how can a test for the forest's projects be :
The groups say goshawks need 6,000 acres to roam, and at least a third of that must be dense old-growth spruce that keeps out less-agile predators that compete with them. Where 68 pairs of the birds roamed Dixie when the Forest Service wrote its 1982 forest plan, only 30 remained last decade. As long as that's the case, they say, the Forest Service can't mess with habitat.
If they really need 2000 acres of dense spruce and that spruce is dying from spruce beetle it sounds like there is a problem that keeping the forest from doing treatments through litigation is not going to solve.
Hoping someone on the blog understands more about this than I and can explain.